Map Upgrade: Add 1-3 Icons to Your Map Print!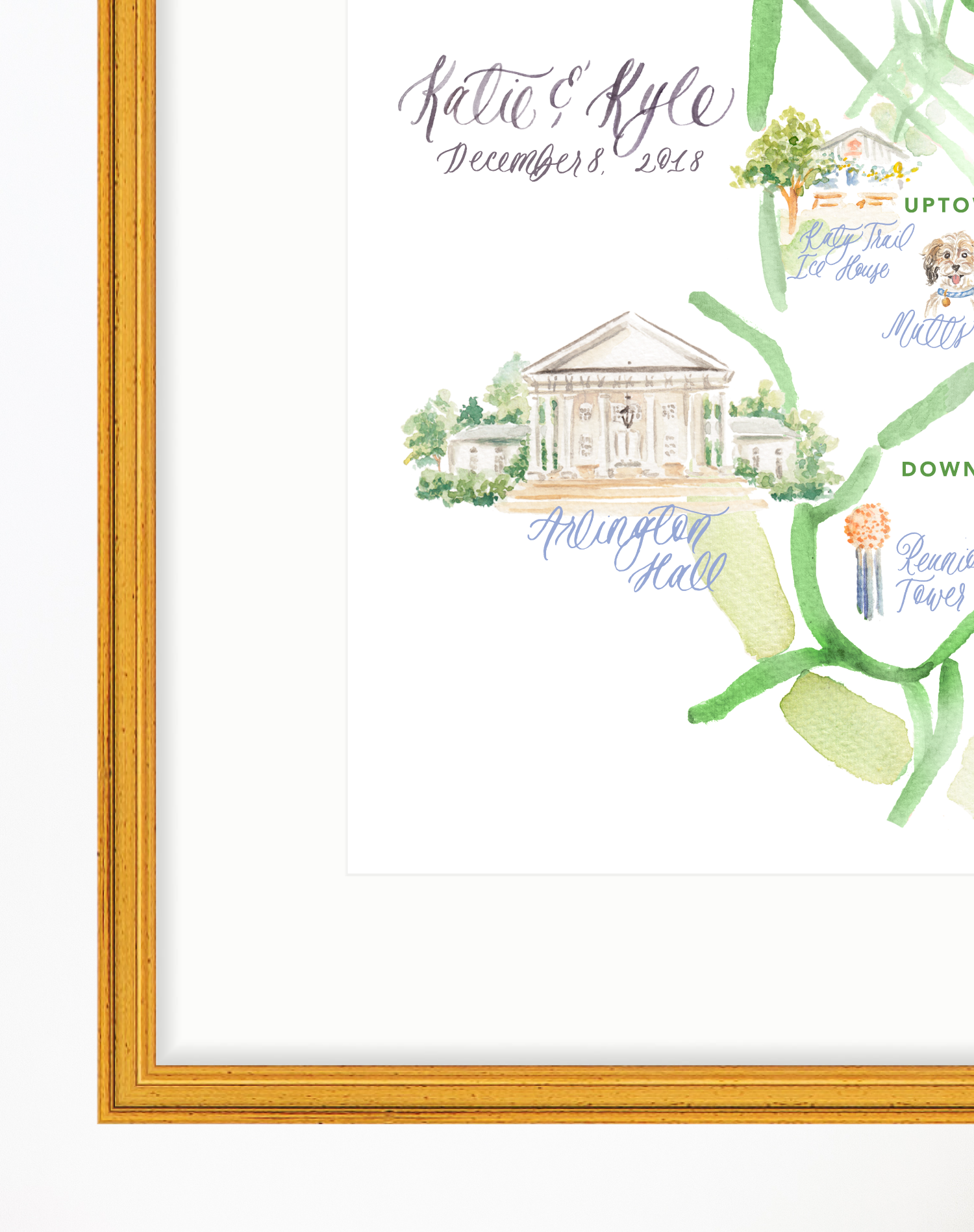 Map Upgrade: Add 1-3 Icons to Your Map Print!
Love one of the watercolor map art prints you see in my shop, but want to add a few of your own icons to make it really personal to you? I can do that for ya!
This upgrade allows you to add 1-3 additional icons or venues to any of the currently available map art prints in my shop. (These currently include the Dallas Map, DC Map, and Knoxville Map.)
It also allows you to add your name(s), a significant date (like your wedding date, first date, engagement date, date you moved to your new home, etc.), and change the color scheme of the calligraphy and road lines!
HOW TO ORDER
Please add both this map upgrade and the map art print of your choice to your cart.
You will be able to tell me all about your icons and personalization details in a form that pops up on this page when you hit the "add to basket" button.
You will also be able to select the art print size of your choice from the map print listing!
FILES PROVIDED
You will receive both an heirloom quality art print and the digital files of your design.
ICON IDEAS
Struggling to determine which icons will be best for your custom watercolor map? Here are some of my favorite ideas to suggest!
Your favorite places to shop

Your favorite places to eat & drink

Your favorite areas for outdoor activities (parks, beaches, hiking trails, etc.)

Your wedding venue, if applicable

Your neighborhood/home

Any iconic areas of your city (famous statues, incredible museums, etc.)
This listing includes up to 3 additional icons/locations.
Your map print will also come with custom calligraphy of the icon/location names.
*Please note: If you would like to add a custom crest to your map design, you can do so by commissioning a custom watercolor crest.
DESIGN PROCESS
After thinking through your preferred map ideas, please fill out the questionnaire in this listing to let me know what you would like included in your unique heirloom design! Then, submit your order.
I will first sketch your custom crest design, and provide you with the sketched proof to review. You are allotted 1 free round of sketch revisions, to ensure that your design is exactly as you envisioned! Every revision after the first round is $100 per revision.
Once we have your sketch perfected, I will begin painting! I will provide you with the painted proof to review and approve! Revisions to the painted piece are limited to color adjustments and minimal icon adjustments. If major icon revisions or map revisions need to be made, an additional design fee will be incurred depending on the intricacy of the revision(s).
*My standard turnaround time for custom paintings is 2 weeks from your order date!
PHYSICAL PIECES PROVIDED
You will receive an heirloom quality art print printed on the finest cotton ultra white paper. It captures the color of the watercolors so beautifully, and looks and feels just like an original piece!
DIGITAL FILES
You will also receive the digital files of your design for unlimited personal use.
Your digital files will be provided in the following file formats: high resolution .JPG, .PNG, and PDF formats with both white and transparent backgrounds for your various potential printing needs.
These design files are for personal use only. The extended license provided when purchasing that option of this listing is only for individuals, couples, and families. It does not permit the use of this design for business use, i.e. as a part of website design. It is not for resale.
SHIPPING
Your art print will be made to order specifically for you! Therefore, please allow between 3-7 business days for production before your art print ships. Shipping will take an additional 1-5 business days, and all prints will be shipped via USPS Priority Mail.
Please note that while I wish I could simply bring you your package over a cup of chai latte, the package is in the hands of the USPS ladies and gents after I ship it from my studio. SJM is not responsible for any delays, lost packages, or undeliverable packages once the package leaves the SJM Studio. Of course, I will do my best with what I can to help you if there are any problems with shipping!
DETAILS
Refunds are not provided, as we will work together to revise your sketch and design until you absolutely love it! (Please refer to the Design Process portion of this listing for revision details).
When sharing your custom map on social media or online, please always give credit to Simply Jessica Marie as the artist! If your design is photographed and published online, the publication/post must always link to simplyjessicamarie.com for credit purposes.
My social media handle is @simplyjessicamarie - and I would love to be tagged in addition to being mentioned in your comment, so I can most easily see how you are creatively using your design! Please also provide this information to any of your wedding vendors for proper crediting and usage.